Welcome to In My Mailbox (IMM)! IMM is a weekly meme created by Kristi @ The Story Siren which features books bought/received in the mail, borrowed from the library as well as other awesome book-related goodies in your mailbox.
It's been a long time since I've posted an IMM! This is gonna be a short one, though. I hardly get bookish stuff in the mail now, and of late my bookshelf hasn't been starving for new books.
Anyway, NetGalley approved my requests for two eARCs last week—thank you, NetGalley!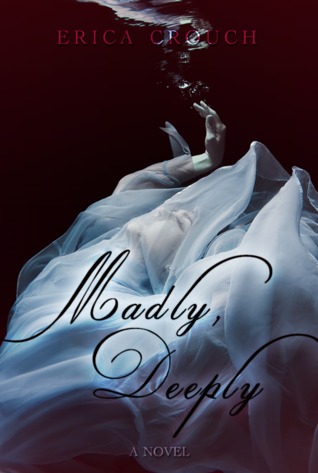 Publisher:
Patchwork Press
Released: June 17th 2014
It was many and many a year ago,




In a kingdom by the sea...





Annaleigh Wells and William Calloway had a love even the angels envied. It was as if the universe spun them toward one another, like the stars crafted their souls to fit perfectly together.





With a wedding on the horizon, fate had a change of heart. Whispered warnings from phantoms and morbid nightmares darkened every night—but even visions of the future couldn't save Annaleigh.



Inspired by Edgar Allan Poe's poem Annabel Lee, Crouch's period romance Madly, Deeply tells the tale of love so great, it cannot be contained in just one life.
The cover is so mysterious and dark. I simply adore the flowy-ness of her dress.
The only story by Edgar Allan Poe I've read so far is
The Tell-Tale Heart
, so the fact that
Madly, Deeply
is based on
Annabel Lee
will be something new for me (hey, that rhymed). Also, that title typography is
très
sophisticated—I have to identify it!
Publisher: Clean Teen Publishing
Expected release date: October 7th 2014
ONE GIRL WILL BRING AN EMPIRE TO ITS KNEES...

Before she can become the greatest empress in history, fifteen-year-old Sophie will have to survive her social-climbing mother's quest to put her on the throne of Russia—at any cost.

Imperial Court holds dangers like nothing Sophie has ever faced before. In the heart of St. Petersburg, surviving means navigating the political, romantic, and religious demands of the bitter Empress Elizabeth and her handsome, but sadistic nephew, Peter. Determined to save her impoverished family—and herself—Sophie vows to do whatever is necessary to thrive in her new surroundings. But an attempt on her life and an unexpected attraction threatens to derail her plans.

Alone in a new and dangerous world, learning who to trust and who to charm may mean the difference between becoming queen and being sent home in shame to marry her lecherous uncle. With traitors and murderers lurking around every corner, her very life hangs in the balance. Betrothed to one man but falling in love with another, Sophie will need to decide how much she's willing to sacrifice in order to become the empress she is destined to be.

In a battle for the soul of a nation, will love or destiny reign supreme?
Again, more cover love! For some reason it looks pure, yet kind of deadly, which is pretty fitting for the blurb (I think). I haven't read historical fiction in a while and I hope Queen of Someday will be comparable to some of the YA historical novels I've enjoyed in the past.
Well, that's it for IMM! I told you it'd be quick ;)
*winks*
What's in your mailbox this week? Which of these two novels would you read first?
I'd love to hear your thoughts! Leave a link to your IMM post if you'd like me to swim by ;)
Tweet